#Sip&Sail Sunset Cruise - Magnetic Island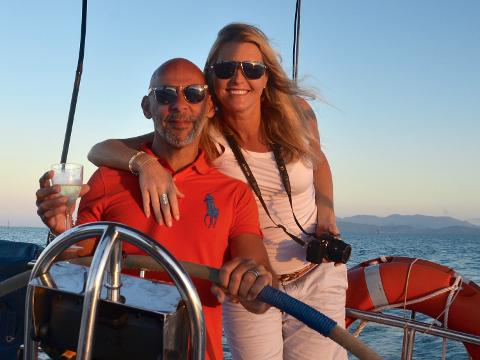 Duration: 90 Minutes (approx.)
Location: Nelly Bay, QLD
Book Now
HIGHLIGHTS

On board a luxury 58 foot sailing yacht
Enjoy a leisurely sail in the waters of Cleveland Bay while watching the sun setting over Magnetic Island

Sample a couple of different Tamburlaine Organic Wines or enjoy a Great Barrier Beer or two with a selection of delicious cheeses
Bring out the sailor in you and have a go at the helm
Personal and intimate experience with the feel of a private charter
Looking for that extra special evening - select our Sip, Sail & Dine option which includes a two course special dinner at Peppers Blue on Blue
Set sail aboard a beautiful 58 foot sailing yacht for a memorable sunset cruise in the magical waters surrounding Magnetic Island. Sip a complimentary glass of Australian organic wine or local beer accompanied by a selection of delicious cheeses while you watch the sun setting over Magnetic Island.
At 4.15pm you will be met on the corner of the Peppers Boardwalk restaurant and the Fantasea car ferry ramp at the Nelly Bay Ferry Terminal and shown to the beautiful 58 foot sailing yacht, which is only a stones throw away from the meeting spot.
Once on board you'll have a choice of places to sit - on the foredeck, on the beanbags in the middle or in one of the two cockpits at the back of the boat. There's plenty of space for everyone to spread out and with a maximum of around fourteen guests it'll feel like your own private charter.
On departing Magnetic Island Marina at 4.30pm you'll receive a quick introduction and safety brief before pulling up sails in Cleveland Bay. Guests are always invited to get involved if you wish, or feel free to watch the crew, Paul & Clare, hoist the sails before turning off the engine to enjoy the peace.
Once under sail, you will be offered a selection of Tamburlaine Organic Wines, which include Sauvignon Blanc, Vintage Blanc de Blanc, Chardonnay and a Petit Fleur (Rose). For non-wine drinkers, there is a locally brewed beer and soft drinks.** There is also a delicious cheese platter to enjoy with your wine - be sure to try the homemade pumpkin chutney!!!
The route of the 90 minute cruise in Cleveland Bay will depend on the wind (strength and direction) and the skipper, Paul will ensure that it is the most comfortable ride for the prevailing conditions. Paul will also line the boat up for the perfect view of the sun setting over Magnetic Island - make sure your cameras are ready!
Once the sun has dropped below the island, we will drop the sails and motor back into Nelly Bay Harbour in time for your dinner plans. If you're looking for a special dinner after the cruise then look no further than Peppers Boardwalk Restaurant. We almost drop you off in the restaurant itself!
SIP, SAIL & DINE PACKAGE
We have teamed up with Peppers Blue on Blue to offer our guests a Sip, Sail & Dine package which includes a special two course menu to enjoy after the Sunset Cruise. For only an additional $65 per person you'll enjoy a Main, a Side dish (to share) and a Dessert, along with a complimentary glass of house wine or beer. See below for the menu:
MAIN (select 1 per person)
Fresh North Queensland barramundi (gf) with prosciutto & prawn colcannon + sugar peas + herbed butter
Tahini and herb marinated chicken breast (df) (gf) with asian greens + tamarin soy & chilli dressing + manuka honey
Bindaree vintage 100 day grain-fed eye fillet (gf) with broccolini + field mushroom + prosciutto + blue cheese + jus

SIDES (select 1 to share)
Broccolini with garlic and herb butter (gf) (v)
Seasonal vegetables (gf) (v)
Buttered and herb-buttered chat potatoes (v)

DESSERT (select 1 per person)
Chef's selection of gourmet sorbets (gf) (df)
Black treacle pudding with sherry poached wild figs + creme fraiche ice cream (gf)
Flourless chocolate mud cake (gf) with glazed cherry + raspberry coulis + double cream
To book the Sip, Sail & Dine Package, select your chosen date & number of guests (as you would to book the #Sip&Sail), click "Book Now" & select the Dine package as an extra.
We will make your reservation at Peppers Blue on Blue Restaurant for you at 6.15pm after the sunset cruise.
Please note: Certain dates the Boardwalk Restaurant is closed for a function. On those dates the menu is still available however dining will be in the pool area on those dates.
FERRY TICKETS
For your convenience you can book return ferry tickets from Townsville at time of booking. Select the Ferry ticket extra when booking.

TIMING
We depart Magnetic Island Marina, Nelly Bay at 4.30pm and return around 6pm.
AVAILABILITY & BOOKINGS:
Sunset cruises are available every day except Tuesdays from mid May to late September 2017 (excluding 12th August to 8th September when Pilgrim races at Hamilton Island Race Week and Magnetic Island Race Week and we look after our guests who love racing!).
ITINERARY
Meet at the corner of Peppers Boardwalk Restaurant and the Fantasea Car Ferry Ramp at the Nelly Bay Terminal at 4.15pm
The crew will show you to Pilgrim for boarding
Depart marina at 4.30pm
Pull out sails and enjoy the peace (wind permitting)
Enjoy a glass of two of Tamburlaine Organic Wines, Great Barrier Beer or soft drinks and delicious cheeses
Enjoy watching the sun setting over Magnetic Island
Return to Magnetic Island Marina at approximately 6.00pm
PICK UP
Please meet by the car ferry ramp (next to the Peppers Blue on Blue deck) at Nelly Bay Ferry Terminal at 4.15pm

One of the crew will meet you there and show you to the boat. Look out for someone in a white "Pilgrim Sailing" shirt!

Please arrive promptly so we depart the dock on time. Unfortunately if you are late the boat will have left without you.
We will depart at 4.30pm SHARP.
DROP OFF
After the cruise Pilgrim will return to Magnetic Island Marina around 6.00pm after the sun has set behind the island.

WHAT TO BRING
Flat white soled shoes or you can go bare foot.
Comfortable clothes
If you are wearing unsuitable shoes you will be asked to remove them.
INCLUSIONS
Tamburlaine Organic Wines*, Great Barrier Beer** or soft drinks (max 2 per person)
Selection of cheeses with crackers
Great Barrier Reef levy
RESTRICTIONS
**Maximum two drinks per person due to license restrictions.

Cruises will only run with four or more adults.

*Tamburlaine Organic Wines are a proud partner of Pilgrim Sailing and a boutique wine producer based in the Hunter Valley, NSW. They pride themselves on being the largest organic wine producer in Australia. All their wines are the perfect accompaniment to an evening sail on Pilgrim.
**Great Barrier Beer is a craft beer brewed at the Bargara Brewing Company in Bundaberg. 50% of the profits go towards protecting the Great Barrier Reef. Drinking beer does good!